There are a variety of noise barriers on the market that meet the physical performance requirements of virtually any acoustical application. In the industrial insulation world, mass loaded vinyl (MLV) is a key acoustical component for mechanical insulation projects. This blog will discuss the different MLV noise barrier products available and what applications they are best for.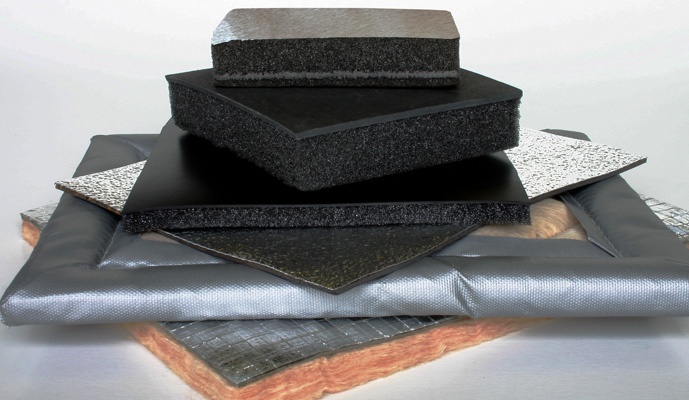 Mass Loaded Vinyl (MLV) is flexible, and resists the passage of sound waves and reduces the transmission of airborne noise. It will not shrink, rot or cause metal corrosion.
MLV can be combined with acoustical foam, mineral fiber, glass fiber, and ceramic fiber insulation to provide lightweight, efficient composites with high transmission losses over a broad frequency range. MLV can be utilized in commercial and industrial insulation applications. In mechanical piping applications, it is effective at suppressing noise. For example, buried gas lines.
Reinforced MLV utilizes a high strength poly fabric in combination with MLV to dramatically improve its durability, tear, and hanging strength. The reinforced MLV won't shrink, rot or cause metal corrosion and also features a strong resistance to adverse environmental conditions and UV rays.
It is used as a free hanging acoustical curtain panel, typically with grommets and loop fasteners.
MLV with Aluminum/Stainless Steel Facings is MLV machine laminated to a continuous roll jacketing of aluminum or stainless steel. The MLV is used in combination with stone wool, fiberglass or ceramic fiber insulation as a path control form of acoustic treatment.
This type of MLV is ideal for isolating piping and ductwork within exposed commercial and industrial areas as well as outside areas requiring weather resistance.
MLV with Foil/Scrim Faced Rolls can be used for wrapping noisy pipes, ducts, and valves in a wide variety of applications. It may be combined with a quilted fiberglass decoupler to improve acoustical performance, thermal conductivity, and lower installation costs.
The durable, reinforced foil facing serves as a protective jacket and readily accepts the matching lag tape. This product is an ideal solution for those applications where a fire rating is of a concern.
MLV with Fiberglass Decoupler/Absorber is laminated to a quilted fiberglass decoupler on one or both sides. The combination forms a thin, lightweight acoustical product. Sound waves originating from the source will initially be absorbed by the fiberglass and then blocked by the MLV. Any reflected sound wave component will be further dissipated into the fiberglass absorber.
It is excellent for wrapping ductwork, piping, garbage chutes, and other noise sources.
MLV with Foam is a flexible, non reinforced MLV combined with an open-cell urethane and other foams. The open-cell design of the foam readily accepts and dissipates sound waves, ensuring maximum acoustical absorption.
This foam facing also acts as a decoupler, breaking and separating vibrations between the two materials. When applied directly to solid objects it provides sound vibration isolation in the barrier and easier gluing/adhesion.
As you can see, MLV can be combined with a variety of materials to help solve those acoustical noise issues. Choosing the best combination can get complicated, but having a basic understanding of each combination will assist you in the decision-making process. Do you need a more in-depth piece on mechanical insulation and noise control? Download our Vinaflex™ brochure here.