When it comes to insulating refrigeration and food lines, choices range from Polystyrene XPS, Cellular Glass, Mineral Wool, or Polyisocyanurate. Each solution has its own pros and cons, but in the end cost and thermal efficiencies gained will typically play a major role in determining the best choice.
One of the more popular options, Polyisocyanurate, or Polyiso for short, is a closed-cell, rigid foam insulation used in industrial manufacturing and food-processing facilities. Because of its high thermal performance, it is often the product of choice for businesses or production facilities looking to save on insulation and energy costs. In fact, according to the Polyisocyanurate Insulation Manufacturers Association, Polyiso is one of North America's most widely-used and cost-effective insulation products.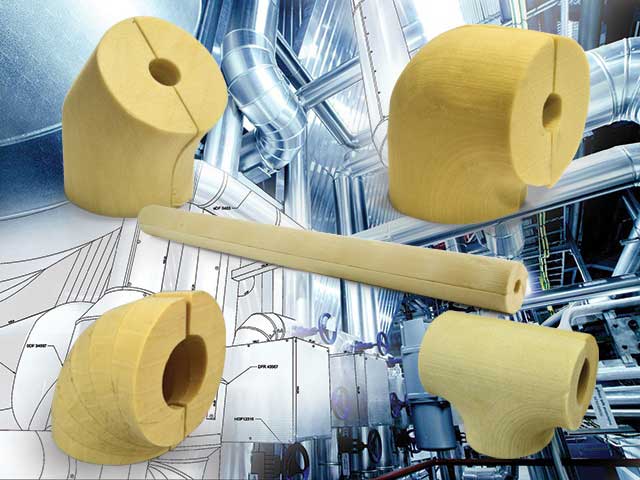 GLT Products offers a complete line of fabricated Polyiso pipe insulation and fittings that can be manufactured in varying degrees of density and compression resistance. Depending on the grade, Polyiso insulation can withstand temperatures ranging from –297° F to +300° F, making it ideal for the food industry where refrigeration, heat loss, and temperature control are critical.
Some of the main advantages of Polyiso include:
Dimensional stability over a wide temperature range
Low thermal conductivity
Lightweight design for easy installation
A wide choice of adhesives and coatings for bonding
Excellent moisture resistance with low vapor transmission
Cited by the US Environmental Protection Agency for its responsible impact on the environment
Polyiso is available in a number of fitting types, including straight pipe covering, segmented, tees, 90° elbows, and 45° elbows. Our team of experienced engineers can create a customized solution based on your specific needs or fabricate to customer-provided specifications. With years of experience and satisfied customers—including several of the largest food-processing corporations in North America—we've perfected the craft of fabricating Polyisocyanurate pipe insulation.

Want to learn more? Download our Fabricated Pipe Insulation for Mechanical Application guide.