When it comes to the material makeup of a removable insulation blanket, there are a number of material combinations that can be used for the outer facing. Fabricators turn to high-temperature fabrics because they offer strength, durability and heat resistance.
High-temperature fabrics are suitable for temperature ranges from 300ºF up to 2,300ºF.
The primary outer layer (cold face), of a removable insulation blanket, is a layer of high-temperature cloth or other material. This layer can be used in the fabrication of turbine blankets, fittings and flange covers and engine pipe covers.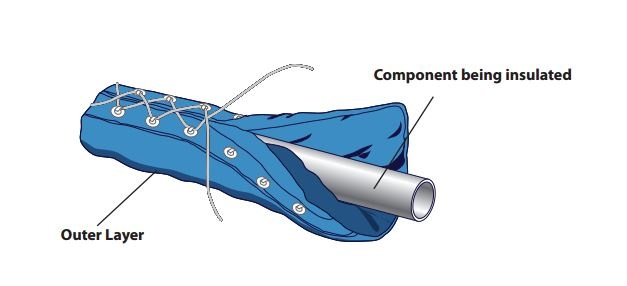 When deciding what high-temperature cloth to use for the outer layer, for an outdoor application, several factors should be taken into account. For example, maximum temperature, location, exposure to elements, aesthetic requirements and frequency of insulation removal.
Common high-temperature cloths, for outdoor applications:
| | | |
| --- | --- | --- |
| Outer Cloths | Temperature Resistance | Advantages |
| | 500°F | Flexible, low smoke and flame retardant, water and oil resistant. |
| | 550°F | Flexible, flame retardant, water and oil resistant. |
| | 300°F | Flame retardant, mold resistant, shows resistance to water and oils. |
Silicone/Fiberglass: Typically used in most standard insulation blanket applications. The material can also be used as an inner layer for applications less than 500 degrees, where a fluid barrier or insulation fiber containment is desired.
Teflon: The material can be used interchangeably with silicone. Teflon offers a broader chemical resistance and is often used in food or other chemical applications.
Aluminized glass: Can be used in place of silicone and Teflon. It is typically used to shield components from a nearby heat source.
The outer layer can also feature an external layer of stainless steel mesh to give even greater durability and strength. This is generally more specified where the blankets are removed more frequently for inspection and servicing.
For more information on the material makeup of removable insulation blankets, download our FREE Removable Insulation Blanket Application Guide, here.