Pipe and tank insulation is a semi-rigid wrap designed to insulate large piping, round duct and other curved surfaces, such as pipes with tracing lines, most fittings and other irregular shapes. Tank wraps are used extensively in industrial insulation applications to insulate horizontal or vertical tanks, vessels and round ducts. The two primary insulation materials used for pipe and tank wraps are either mineral wool or fiberglass.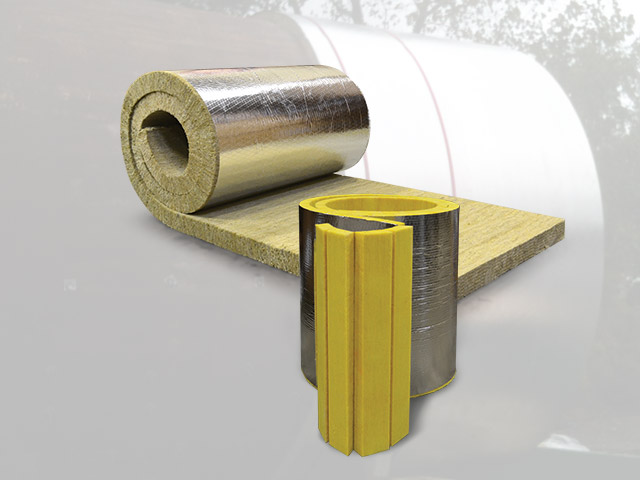 A common question asked is, "what is the difference between the two types of insulation wraps?" GLT Products is here to provide you guidance in selecting the right product.
Mineral Wool:
Mineral wool, also commonly called rock wool is used to insulate extremely hot surfaces, reaching up to 1,000°F. It is composed of volcanic rock primarily, basalt. Mineral wool has low thermal conductivity and fire-resistance, which maximizes control of heat loss, contributing to reduced operating costs and greater energy savings.
It is easy to handle and fabricate. Mineral wool is tough, durable and flexible. The blankets cut cleanly with a knife, making clean up time hassle free.
In addition, mineral wool generates very little waste when being manufactured. It can be recycled and fed straight back into the manufacturing process.
Fiberglass:
Fiberglass is composed of fine glass fibers, held together with resin and binder. It is used to insulate cold and hot surfaces from -60°F to 650°F. Fiberglass pipe and tank wrap insulation provides good compressive strength while providing flexibility during insulation.
Fiberglass is a cost effective substitute of pre-formed pipe insulation and is a quick and stress-free installation process. The product is intended for indoor use and should be weather protected for use outdoors.
It has a low thermal conductivity compared to similar products, meaning less thickness is required for equivalent heat flow.
Mineral Wool vs. Fiberglass
| | | |
| --- | --- | --- |
| | Mineral Wool | Fiberglass |
| R-value | 3.3 per inch | 3.7 per inch |
| Sustainability | 70% recycled content | 20% - 30% recycled content |
| Density | 6 lbs per cubic foot | 4 lbs per cubic foot |
| Weight | Denser | Lightweight |
| Moisture Absorption | Will not absorb and retain moisture | Will not absorb and retain moisture |
| Corrosive | Non-corrosive | Non-corrosive |
Mineral Wool vs. Fiberglass
Both insulation materials are effective solutions for the insulation of tanks and offer unique advantages and disadvantages. Determining the final selection is often based on cost, temperature range or meeting a certain specification.
GLT Products has a number of insulation options available, to meet the needs of the industrial insulation market no matter what the application. Our line of pipe and tank insulation wraps allow for the insulation of curved surfaces, such as large pipes, cylindrical vessels, ducts, tanks and other round surfaces.
Our pipe and tank wrap insulation, eliminates the need for stocking large diameter pipe insulation, thereby eliminating job returns on slow moving items.
To discover more about mineral wool and fiberglass click here.