Once an industrial insulation project is complete, what happens next? That's where maintenance of the system becomes an after project component. Below you will find crucial factors to take into consideration after the project is complete.
A properly designed and installed insulation system will require periodic maintenance. Over time, any mechanical insulation system can become damaged, and if no maintenance plan is in place, repairs will have a costly effect. While also posing other risks which include the following.
Increased energy costs
Increase in greenhouse gas emissions
Loss of process/production quality
Occurrence of CUI
Development of condensation or ice buildup
Growth of mold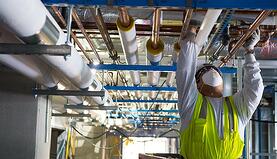 Annual inspections should be conducted to detect the following.
Unchanged insulation and inspection ports – Insulation is often not replaced after maintenance has been done to mechanical systems. Always replace.
Leaks or spills – All leaks should be repaired. The insulation should be replaced as required and use nonabsorbent materials at these locations.
Breaks or shrinkage cracks in weather/vapor retarders – Proper patching should include the use of reinforcing fabrics with weather/vapor retarder mastics in accordance with manufacturer's recommendations.
Gaps or unsealed joints – If either is present this may indicate the need for expansion joints. Patching will not be an applicable repair. The gaps may be packed, then patched in the same manner as shrinkage cracks.
High-temperature projections – Maintenance is often necessary where high-temperature projections such as supports or uninsulated nozzles come into contact with insulation.
Mechanical abuse areas – Evidence of foot traffic, ladders or other machinery indicated the need for rigid insulation or stronger protective finish.
Condensation or frost on cold surfaces - Moisture on the surface of low-temperature insulation finishes indicate either insufficient insulation thickness or a breakdown of the vapor retarder system. Prompt repairs are recommended to protect the life of the system.
It can be challenging to implement a mechanical insulation maintenance plan, but by following the tips above it should help your facility's operation run successfully and improve process efficiency and equipment life. Mechanical engineers and insulation contractors can help play a key role in facilitating regular inspection to achieve this outcome.