Food and beverage plants contain numerous below ambient water systems and below ambient equipment such as pumps, heat exchangers, vessels, and extensive refrigerant piping. These systems all need a thermally efficient, highly moisture resistant, and long-life insulation system.
The value of industrial insulation in such facilities is of great importance in keeping the system running efficiently. Insulation is one of the simplest ways to achieve this goal. The costs are relatively low, and insulation saves energy within the processes by further reducing the HVAC costs. Additionally, adequate thermal insulation is essential for preventing both heat loss from hot surfaces (ovens, furnaces, piping) and heat gain in refrigeration systems.
Any insulation material used in these facilities must be covered. For example, a fibrous insulation material must have a protective jacketing (metal or PVC). Whether the insulation is any of the materials listed below, or not, the jacketing is essential in protecting the environment from any contamination or exposure.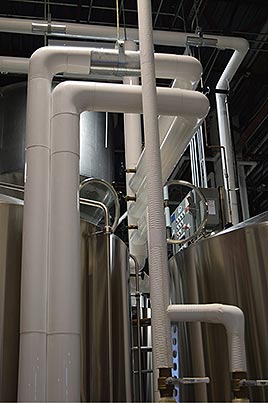 For food processing systems, it is important to keep in mind that the insulation choice must provide moisture resistance. That is a key point in determining the type of insulation. Any insulation material, as noted before, must be covered with either a PVC jacketing or metal jacketing. The jacketing acts as a protective barrier and provides initial resistance to moisture and physical impact from repetitive cleaning.

The Insulation Material Should Be:
Nontoxic
Odorless
Non-contaminating

Recommended Insulation Materials:
Cellular glass
Closed-cell phenolic
Flexible elastomeric
Polyisocyanurate
Polystyrene

The insulation materials listed above have one property in common: they are all closed-cell insulation materials. This type of insulation will have a reasonable water vapor transmission rate and low water absorption characteristics.

The food and beverage industry requires careful consideration in the insulation material and installation to maintain a sanitary environment. Installing the correct insulation will obtain optimum performance from the system and lead to many years of longevity in maintenance for the facility. Download our "Fabricated Pipe Insulation for Mechanical Applications" guide here to learn more about insulation choices for mechanical applications.

Image from National Insulation Association