Facings are fastened to insulation materials during the manufacturing process. They are used on insulation to protect and hold the insulation together. Your climate and where and how you are installing the insulation will determine what type of facing you will need.
FSK and ASJ are two common insulation facing terms you may have heard referenced within the insulation industry. Facings serve an array of purposes in air handling and piping applications, including helping your systems meet building codes, achieve quality energy efficiency, and control condensation.
This blog will discuss the difference between ASJ and FSK facings, to help you better understand the two facings used within the industrial insulation industry.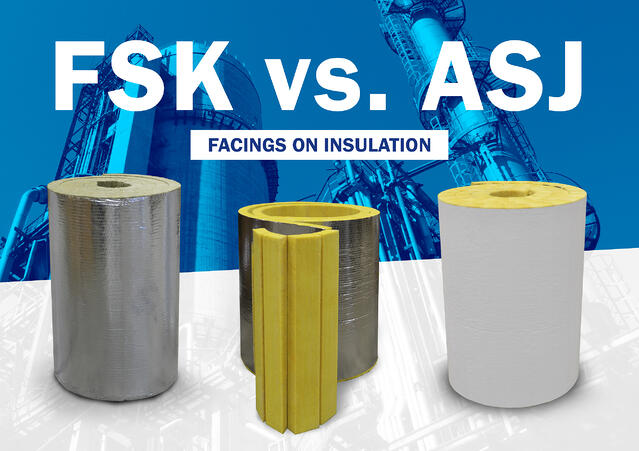 FSK Facing:
FSK, or Foil Scrim Kraft is also a flame-retardant, vapor-barrier facing. The facing is most commonly utilized with duct wrap, duct board, and mechanical spin-glass boards on the outward-facing, exposed surfaces of HVAC ductwork.
This facing is also manufactured very similarly to ASJ facing, using several layers, which are all laminated together using flame-retardant adhesive.
ASJ Facing:
ASJ, or All Service Jacket is a common facing utilized in the industrial insulation industry. This facing is a flame-retardant vapor-barrier facing. It is manufactured using light-weight aluminum foil layered with a tri-directional fiberglass reinforcing scrim and then attached with high-intensity White Kraft paper.
ASJ has been the trusted mechanical insulation solution for engineers and insulators for several years. It provides pipe insulations with several benefits, such as thermal- barrier, mold and mildew resistant and insulation protection.
FSK and ASJ facings are not all that different, the main difference between the two is the bleached White Kraft paper that faces away from the insulated pipe, giving the pipe an appealing, clean, white facing.
The industry also offers several tapes and mastics available to match the White Kraft paper, to ensure that the facings remain crisp and seamless.
There are a wide variety of facings that are utilized in the insulation world, all of which serve a similar purpose. It is important to make sure you are selecting the correct facing for your application. Mechanical piping applications are one area that FSK and ASJ facings play a role. Download our free Guide on Fabricated Pipe Insulation for Mechanical Applications to learn more.