Insulation jacketing is an outer covering that is wrapped around tubing or pipe insulation to shield the insulation from moisture, wear, and mechanical damage. Insulation jacketing plays a vital role in the productivity and effectiveness of the mechanical insulation.
When selecting a jacketing one must consider the mechanical, chemical, thermal, and moisture conditions of the installation as well as cost and aesthetics requirement.
Insulation Jacketing can be broken into five functional groups.
Weather barriers

Vapor retarders

Mechanical abuse coverings

Appearance coverings

Hygienic coverings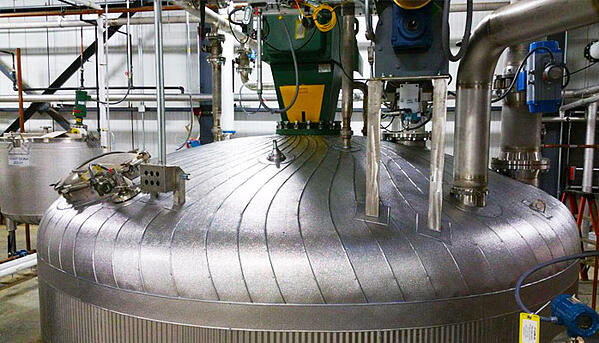 Materials
Metal jacketing are manufactured from metal sheets such as aluminum, stainless steel, coated steel, aluminized steel, galvanized steel, and zinc galvanized steel.
Aluminum sheets are widely used in fabricating metal insulation jacketing. Aluminum is lightweight and has excellent corrosion resistance. The disadvantage of aluminum is that it has poor durability when exposed to heat. The material can have a smooth, embossed and corrugated surface finish. Smooth finishes have a more attractive and are easier to clean; however, they show surface wear. Embossed finishes do not show surfaces damages, but they do hold contamination easier than smooth surfaces. Corrugated surfaces are available in a variety of sizes and are stiffer than other jacket materials. The disadvantage of a corrugated surface is that water can collect on the top surface which can then penetrate into the insulation.
Stainless steel is often used in chemical plants to protect the underlying insulation and piping from the corrosive fumes, leaking chemicals, and other environmental conditions. This material is also used when there is a potential for fire because it melts at a much higher temperature, and will remain in place much longer than aluminum. Stainless steel is the most commonly selected insulation jacketing material.
Zinc galvanized steel can be used in similar applications as stainless steel. The zinc coating will most likely melt in the fire. This may cause metal embrittlement to the nearby stainless steel surfaces.
PVC is the most common plastic jacketing material used. If the insulated ducting or piping runs outside, then a weatherproof cladding of aluminum or UV resistant plastic might be selected to provide and maintain protection against weather conditions such as vapor, rain, wind, snow and UV/sunlight.
Foil-film laminates such aluminum service jacketing (ASJ) combine the mechanic wear, heat and tear resistance of aluminum with the vapor and chemical resistance of a plastic film. Foil scrim polyethylene (FSP) laminate adds a reinforcing layer of reinforcing fiberglass scrim to the construction. Another laminate, foil scrim kraft (FSK) consists of a thin layer of aluminum foil, glass fiber reinforcing scrim, and low-cost Kraft paper. The foil laminates are often pre-applied to the outer layer of insulation batting.
Fiberglass cloth or silicone coated fiberglass jacketing are used in some applications with higher environmental conditions. In certain applications requiring higher cleanliness, hygiene, sanitation, or waterproofing; fiberglass reinforced plastic panels, multi-ply laminates or synthetic rubber laminates are used.
Fabric can be used as insulation jacketing. Fabrics have the advantage of being able to cover complicated shapes and provide a flexible, removable, and reusable insulation. The disadvantages include reduced durability when compared to metal jackets.
For industrial insulation projects, especially mechanical piping applications jacketing is vital to maintaining the integrity of the insulation and the system. With the many options listed above the industrial insulator has a wide array of options available to them. To learn more about jacketing options visit our sister company, Volunteer Metals.
Resource:
"Insulation Jacketing Information." Water Baths Information | Engineering360, www.globalspec.com/learnmore/manufacturing_process_equipment/stock_fabricated_materials_components/insulation_jacketing.