Vapor barriers are extremely important when insulating mechanical piping, especially cold systems, particularly in high humidity conditions such as the gulf coast. Proper insulation of these pipes will help avoid massive failures that could lead to liability exposure. Also, consideration should be given to joint sealing, as this is also critical to long-term quality and function of the mechanical pipe system.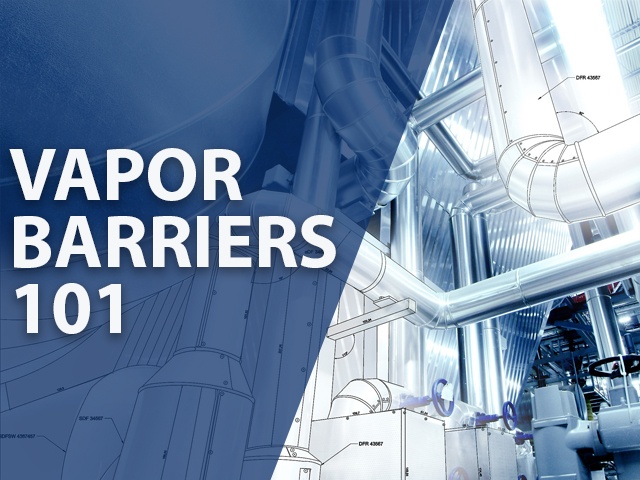 Vapor retarders are designed to retard the passage of moisture vapor, from the atmosphere to the insulation. A key requirement of any mechanical insulation project is to prevent the mechanical pipes from getting wet, which could lead to significant moisture problems such as, corrosion under insulation (CUI) and mold growth which affects the quality of the insulation. Vapor retarders take four forms:
Rigid jacketing- Contains plastic or PVC fabricated to the exact dimensions and of the proper thickness.
Laminated foil jacketing- Laminated foils and treated or coated products that are applied to the insulation material at the factory or in the field. Non-adhesive ASJ facing and FSK facing.
Mastic applications- Provides a seamless coating, but requires time to dry.
Flexible membranes- Are based on a wide range of materials including bituminous products, elastomeric membranes and plastic sheeting.
A material's ability to retard the diffusion of water vapor is defined in terms of its permeability in units, known as "perms." The lower the number, the less permeable the material and the more moisture it will block.
Vapor barriers are normally available as coatings or membranes.
Common materials used as vapor retarders:
Aluminum foil
Polyethylene
Advance polyethylene
Kraft paper
Metallized film
Vapor retarder paints
Extruded polystyrene
To discover some of GLT Products vapor barrier products click here.