Mineral wool is one of the top four fabricated pipe insulation materials available on the market today for industrial insulation applications. With a wide range of thicknesses and facings available, mineral wool can be found in a number of applications such as protect pipes, tanks, vessels, and personnel.
Mineral wool is known to conduct heat fairly efficiently when pressed into rolls or sheets form. It can also act as an excellent heat insulator and sound absorber. In industrial processes the need exists to find methods to conserve energy, here is where mineral wool's true value comes to life. Many prefabricated piping and fittings found in industrial insulation applications use mineral wool as the base insulator.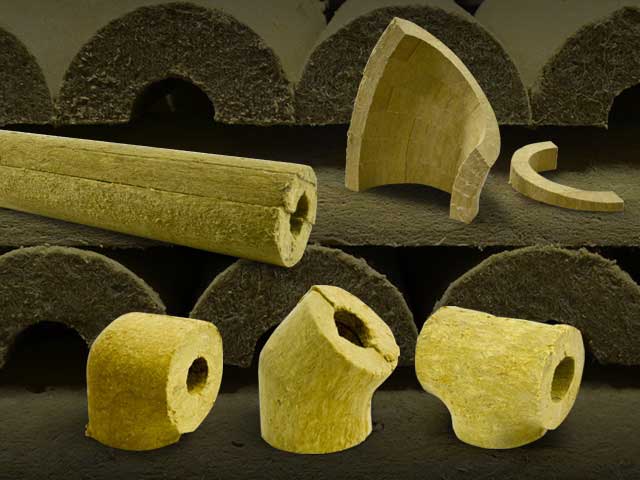 Mineral wool's insulation benefits include:
Outstanding thermal performance
Low moisture absorption
Excellent fire resistance
Excellent sound absorption
Mold resistant
But mineral wool's benefits extend far beyond its insulation properties. Because it is made from natural rock and slag, mineral wool has outstanding energy conservation benefits.
Incorporating Scrap: In efforts to reduce waste, many insulation manufacturers will incorporate scrap back into the initial production phase or repurpose the scrap for use in other products. With the improvements in technology and the engineering process, it is easier than ever to reuse scrap to reduce as much waste as possible.
Energy Efficiency: Concerns continue to grow about the environment, as well as energy supplies and the sources of the energy we use. Using mineral wool fabricated pipe insulation can reduce energy consumption, this in turn conserves non-renewable fuel, reduces air pollution and greenhouse gas emissions, as well as providing energy savings.
Use of Resources: Mineral wool is made of a mixture of natural rock such as basalt and recycled slag. By using both natural products and waste byproducts, the production of mineral wool conserves resources and helps eliminate waste.
Whether you are looking to fabricated pipe insulation for its thermal benefits, or something that is more eco-friendly, mineral wool is applicable to both situations.
Want to learn about the various types of insulation used in fabricated pipe insulation? Download our Fabricated Pipe Insulation for Mechanical Applications Guide.