In the United States, the Occupational Safety & Health Administration (OSHA) is requiring all chemical suppliers to provide GHS-compliant labeling, and Safety Data Sheets (SDS) on all chemical products beginning June 1, 2015. There appears to be some confusion on what the new regulations touch on and what impact it will have on products purchased from GLT Products.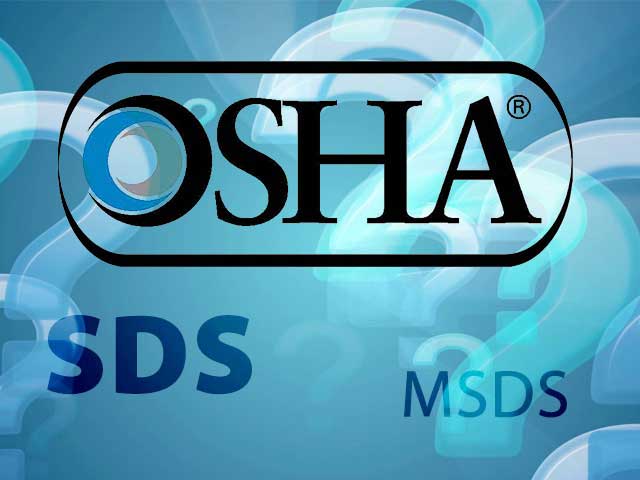 These sheets are a key aspect of the Right-to-Know provision of OSHA's Hazard Communication Standard and moving forward will be referenced as SDS (Safety Data Sheets). OSHA is streamlining the data in the former MSDS into a standardized 16-section format for ease of training and notification of hazards. The new format will also conform to the GHS (Global Harmonized Standard), an international agreed-upon system for standardizing and harmonizing the classification and labeling of chemicals.

The first phase of the MSDS to SDS transition went into effect in May 2012. By December 2013, companies were required to train all employees on the formatting and labeling changes. As a manufacturer, June 1, 2015 is the date we must have updated SDS for those products that fall into the hazardous category. For those chemical products we distribute our deadline for compliance is December 1, 2015

What is on an SDS?
The former MSDS featured several different formats including an OSHA eight-section version and an American National Standards Institute (ANSI)'s 16-section version. The new format will abide by the ANSI's 16-section format. Expanded details and information on the new format can be found at www.OSHA.gov or via this link: https://www.osha.gov/Publications/OSHA3514.html
The SDS includes information such as the properties of each chemical; the physical, health and environmental health hazards; protective measures; and safety precautions for handling, storing and transporting the chemical. SDSs are required to be in English, but may be presented in additional languages as well.
When do I need an SDS?
At GLT Products, we often receive requests for Safety Data Sheets on items that are not considered hazardous. This information is mandatory for products that are hazardous and chemical in nature, not only to protect yourself from the exposure, but also to protect your employees and co-workers.
OSHA only requires SDSs for hazardous products or chemicals. GLT Products, along with other manufacturers are not required to provide SDSs for non-hazardous materials or products. OSHA has left it up to the producer whether or not they provide SDSs for non-hazardous materials. Many often do due to liability purposes, but not for compliance. In fact, OSHA does not encourage manufacturers to maintain SDSs for non-hazardous products or chemicals.

OSHA further defines manufactured goods as "Articles". An "article" means a manufactured item: (1) which is formed to a specific shape or design during manufacture (2) which has end use function(s) dependent in whole or in part upon its shape or design during end use; and (3) which does not release, or otherwise result in exposure to, a hazardous chemical under normal conditions of use. Any product which meets the definition of an "article," would be exempt from the requirements of the Standard.
The simple fact to keep in mind is that if it is a hazardous chemical or product, a Safety Data Sheet will be required. If it is a manufactured product the odds of an SDS existing may be slim.