Crude oil prices have been low for quite some time now and according to the NYTimes, "Executives say they think it will be years before oil returns to $90 or $100 a barrel, which was the norm until prices collapsed in late 2014." Oil prices have been edging up and are currently trading in a range from $50- $62 a barrel.
But is the lower price good or bad for the economy? Some will argue that the effect is positive because it lowers prices at the gas pumps for consumers. On the flip side, lower oil prices can affect the profitability of industrial insulation companies. In this article, we will discuss the direct impact low, and high costs of oil have on the industrial insulation industry.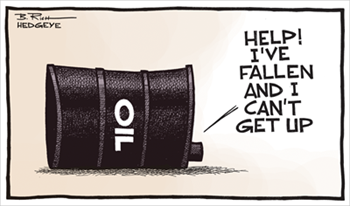 How Low Prices Affect the Industrial Insulation Industry:
Oil companies are not alone in feeling the pain; the insulation industry is directly affected by low oil prices. There is a direct correlation between low prices and the need to insulate and create energy efficiencies in the processing of oil. The complicated process of an oil refinery (click here to discover what goes on in an oil refinery) requires miles and miles of pipelines and significant capital investment for production facilities. All of which needs to be insulated. With oil prices hovering in the 50's for the last few years, only three new refineries were built according to data from U.S. Energy Information Administration.
How High Prices Affect the Industrial Insulation Industry:
When oil prices are high, the industrial insulation industry does very well. As customers become dissatisfied with the price of oil, they turn to other forms of energy such as natural gas, biofuels, and ethanol products for their energy needs. Alternative energy sources fuel growth and expansion. New production facilities will be built and new pipelines will be installed, and they all have one thing in common, the need for industrial insulation.
For example, the rise in natural gas production in the United States over the last decade is driving growth for industrial insulation. There are a number of liquefied natural gas (LNG) facilities being constructed in the United States. Currently, there are four LNG export terminals under construction with others proposed as published by the U.S. Energy Information Administration. These facilities will convert natural gas to LNG for exportation. Each of these facilities will need insulation and lots of it!
The bottom line is that both low and high oil prices have a ripple effect on companies and industries. Most businesses are negatively impacted when there is a price increase. However, there are industries that profit when oil prices increase. These companies are those that directly support the oil industry through products for industrial insulation.
Work Cited:
Krauss, Clifford. "Oil Prices: What to Make of the Volatility." The New York Times, The New York Times, 15 May 2017, www.nytimes.com/interactive/2017/business/energy-environment/oil-prices.html.
Denchak, Melissa. "The Dirty Fight Over Canadian Tar Sands Oil." NRDC, 11 Sept. 2017, www.nrdc.org/stories/dirty-fight-over-canadian-tar-sands-oil.
Hughes , Baker. "Rig Count Overview & Summary Count." Baker Hughes Rig Count Data | BakerHughes.com, phx.corporate-ir.net/phoenix.zhtml?c=79687&p=irol-rigcountsoverview.
"U.S. Energy Information Administration - EIA - Independent Statistics and Analysis." Growth in Domestic Natural Gas Production Leads to Development of LNG Export Terminals - Today in Energy - U.S. Energy Information Administration (EIA), 4 May 2016, www.eia.gov/todayinenergy/detail.php?id=25232.