No, we're not talking about pairing the right belt with the right boots. In the context of insulation, accessories are devices or materials intended to serve one or more variety of functions. Improper accessory design or application can be a significant factor in the failure of insulation systems.
Accessories serve a variety of functions and knowing how these options will help your insulation do a better job of increasing R-value, handling accoustic lagging, or enhancing the overall value and longevity of the project is important. The accessories you choose for your insulation project is paramount in making sure you are getting the best value for your money. In speaking with your insulation contractor, bring up any of these important insulation accessories and see what options they reccommend for your specific project.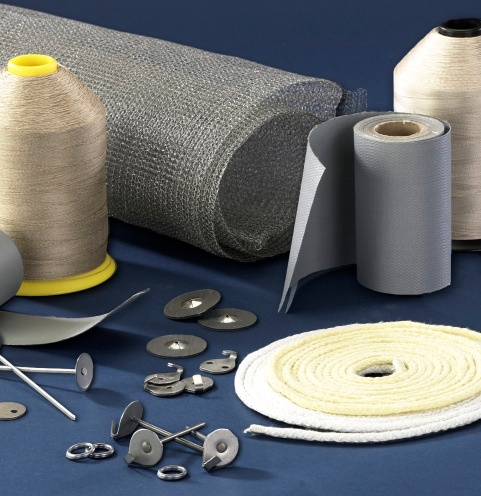 Insulation and jacketing fastening: Most forms of insulation are not structural materials, so they must be fastened, supported, secured, or bonded in place. The fastening method used must be compatible with both the insulation and jacketing materials. Available choices include studs and pins; staples, serrated fasteners, rivets and screws; clips; wire or straps; self-adhering laps; tapes; and adhesives. Ambient temperature and humidity conditions can also affect the efficiency of tapes and adhesives. When choosing adhesives, first check their temperature range and vapor permeability properties; wherever possible, use mechanical fasteners.
Reinforcement for cements and mastics: Mastics and cements should be reinforced to provide mechanical strength. Reinforcing materials options include fiber fabrics, expanded metal lath, metal meshes, and chicken wire. To prevent corrosion, always consider material compatibility before making a selection.



Flashing: Metal, plastic or mastic materials can be used to direct the flow of liquids away from the insulation.



Stiffening: Metal lath and wire netting (chicken wire or knitted wire mesh) can be applied to high temperature surfaces before applying heavy density insulation.



Supports: A variety of pipe supports and accessories may be needed, such as heavy density insulation inserts, pipe support saddles and shoes.

The above accessories are just a handful of the options available to a contractor or installer. Whatever insulation project you are working on, in the end you will need some type of accessory to complete the project.