Glass fiber has become a popular material utilized throughout several industrial industries such as oil and gas, marine and chemical, just to name a few. Glass fiber also plays a role in many industrial insulation processes and end products such as fabrics for high-temperature applications.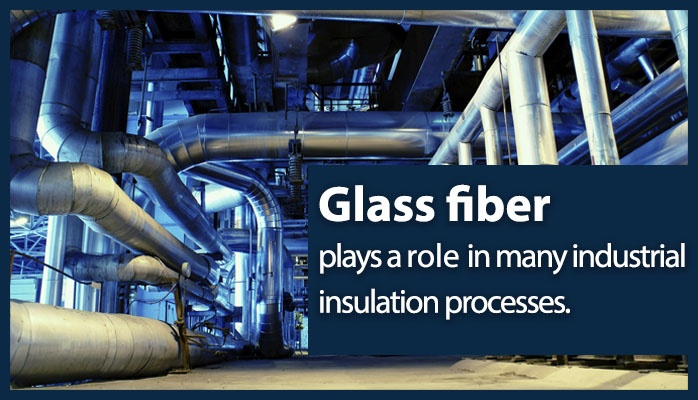 Glass fiber is a material made up of several fine fibers of glass. The product is one of the most versatile industrial materials known today. It has comparable mechanical properties to other fibers such as polymers and carbon fiber. The product is used as a reinforcing agent for many polymer products; to form a very durable and lightweight material known as fiberglass.
Fiberglass fabrics offer some unique advantages over other fabrics due to thickness, weight and strength. With such a wide range of properties, it allows the material to satisfy design and project objectives in many industrial applications. Fiberglass fabrics have the following properties:
High tensile strength: Glass has greater tensile strength than steel wire of the same diameter; at a lower weight.
Dimensional stability: Consist of a low elongation load, typically 3% or less.
High heat resistance: Glass fabrics retain 50% of room temperature tensile strength at 700°F, 25% at 900°F, a softening point of 1,555°F and a melting point of 2,075°F.
Fire resistance: Made up of inorganic materials making the product non-combustible.
Good thermal conductivity: Glass fibers are great thermal insulators because of their high ratio of surface area to weight.
Good chemical resistance: Highly resistant to the attack by most chemicals.
Outstanding electrical properties: Has a high dielectric strength and low dielectric constant.
Durability: Not prone to sunlight, fungi or bacteria.
Economical: A cost efficient choice compared to similar products.
Glass fibers are manufactured in many forms, for specific uses and applications. The most common type of glass fiber used in fiberglass is e-glass, it is by far the most used and is the least expensive. E-glass can be found in our GLT Mat, a mechanically bonded e-glass insulation layer used in the fabrication of removable insulation blankets.